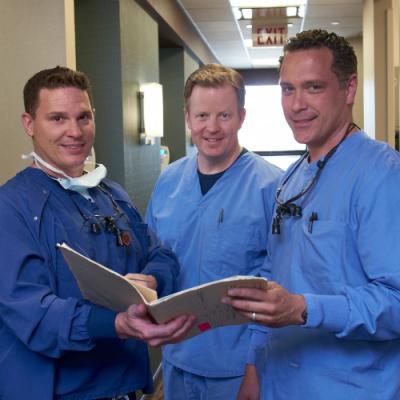 Never Fear Root Canal Treatment
One Stop Dental Care
At Grove Dental Associates, our dentists will never send you away to another practice for a root canal. We know that having a root canal treatment is stressful enough without worrying about finding an endodontist to perform the procedure. You can see a root canal specialist at Grove Dental, where you already receive great dental care from a staff you know and trust.
Our endodontists perform hundreds of root canals each year. In fact, root canal treatment is all they do! An endodontist, also known as a root canal dentist, focuses on one thing — creating a durable foundation for long-lasting oral health.
Your root canal specialist at Grove Dental also has full access to state-of-the-art equipment that not only improves the outcome of your root canal procedure, but also makes the experience more enjoyable for you.
About Root Canal Treatment
Most dental professionals treat the outside of teeth, the enamel that protects teeth and the gums that support your teeth. A root canal dentist treats the inside of a tooth.
A root canal specialist treats the inside of a tooth when the pulp becomes inflamed or infected. Even without visible damage to the enamel or dentin, trauma to a tooth may damage pulp. Left untreated, pulp inflammation or infection can cause pain or lead to an abscess.
What to Expect?
During a root canal procedure:
The root canal dentist removes the damaged pulp then carefully cleans and disinfects the interior of the tooth
The root canal specialist then fills and seals the tooth with a rubber-like material
Finally, a protective root canal crown or filling is put in place
Visit us at one of our four locations for your root canal