If you are looking for a dentist in Bolingbrook, Downers Grove, Lombard or Wheaton, look no further! Grove Dental offers family-friendly care for every stage of life. Our state-of-the-art practice includes 30+ dentists with decades of experience, including every kind of dental specialty. That means the whole family can come to Grove Dental for everything — the kids' checkups and orthodontic treatment, your veneers or implants, seniors' dentures, etc. We even offer simultaneous family appointments to save you extra time.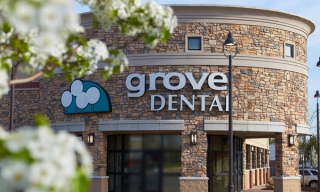 Dental Care in Comfortable Surroundings
If you're a little apprehensive when it comes to dental work, you're not alone — plenty of adults and children feel the same way. That's why Grove has made itself the kind of dental practice where patients come seeking comfortable care from a dentist in Downers Grove and our neighboring locations throughout Chicagoland including Wheaton, Bolingbrook, and Lombard. At Grove, your comfort is our top priority!
Featured Specials
As part of our mission to provide the best, most convenient dental services in Chicagoland, Grove Dental is always offering various specials.
Visit our Specials page to see all of our promotions. 
$99 New Patient Specials
Includes regular cleaning, exam and x-rays for adults and children. Adults regularly $199. Pediatric patients may include fluoride and 2-bite wing x-rays. Regularly $257. All other x-rays at additional cost. New patients only.
*New patients without dental insurance will receive the $99 exam, cleaning and x-rays. Patients with insurance will receive insurance plan pricing. We reserve the right to cancel the promotions, discounts, free offers, and incentives without any prior notice or reason.
Free Orthodontic Exam and Evaluation
Includes orthodontic exam and panoramic x-ray, treatment recommendations (including Invisalign), estimated treatment time and fees.
$199 In-Office Whitening
With our in-office teeth whitening procedure, your teeth can be brightened several shades in just one appointment — and, for only $199. (Must be 16 years or older.)
Emergency Dental Treatment
What our patients say
I am a very nervous patient. I have to say, best dental experience ever. They are so kind, got me in quickly, gave me something to calm me down, talked me through everything. Very large practice and run like a well-oiled machine. I will recommend them to everyone. This place came to me by recommendation and I could not be more pleased.
Patient of Grove Dental, Google Reviews
"My husband needed to find an oral surgeon to have a few teeth extracted. We were referred to Dr. Smith at Grove Dental Associates from our primary dentist in the same building. Dr. Smith is an outstanding oral surgeon, he made the procedure as painless as possible with proper sedation. The recovery and healing of the gums was excellent. If we need an oral surgeon in the future, Dr. Smith will be the one to do it. The experience with this oral surgeon was excellent."
Patient of Grove Dental, Google Reviews
"Great Kids Dentist and Ortho!! NOW, KEEP IN MIND, I DRIVE 45 MINUTES TO THIS OFFICE, AND I HAVE 4 ORTHODONTISTS WITHIN A 5 MINUTE DRIVE FROM MY HOME! After a horrible experience with a quack dentist, we switched to Dr. Chung. She was amazing with my children, even the 3yr old, and they love her. Next: 2 of my sons see the orthodontist there, Dr. Patel. No complaints whatsoever! The staff has made it clear that I am always welcome to speak to him about any questions or concerns. The woman who handles orthodontist billing was so knowledgeable about the insurance procedures and always got back to me quickly with any phone calls. Last: The two woman who work scheduling are so cute and friendly. They know I'm a busy mom of 4 and they go out of their way to coordinate all our appointments."
Patient of Grove Dental, Google Reviews
"I have been using Grove Dental for over 15 years, and am very pleased with them. I went to them because I had some tooth pain, and I wanted them to check it out. They determined it may be a damaged nerve, and I needed root canal surgery. Saw the endodontist the next week, and he performed the procedure. They are very good to work with. Very successful. Root canal went well, and no more pain. Their new offices have the most up to date equipment, and staff is very good to work with."
Patient of Grove Dental, Google Reviews