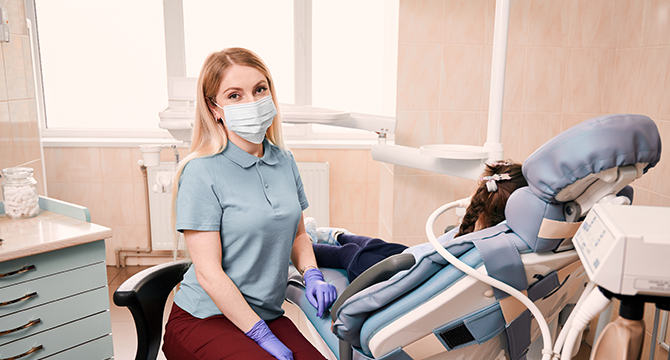 Sedation Dentistry for Children
Some children need help to relax in preparation for their dental treatment. At Grove Dental Associates, we offer sedation dentistry for kids as a safe and effective way to ease treatment at one of our four office locations in Bolingbrook, Downers Grove, Lombard and Wheaton. 
Sedation can help your child remain calm during a dental procedure. It is administered in oral form and allows the dentist to provide the needed treatment safely, effectively and efficiently. 
Our treatments not only help to ease anxiety, they suppress the gag reflex. If sedation is required for your child's dental treatment, he or she will begin with the opportunity to choose a nose piece that comes in several fun colors and scents. Our sedation dentist for children work to foster a positive pediatric sedation dentistry experience for our young patients.
What to Expect?
With sedation pediatric dentistry, children remain awake and aware for the duration of their appointment. During the procedure, we will closely monitor your child's vital signs to help him or her remain relaxed and comfortable. 
Our sedation options are conscious, which means they do not put a child to sleep like other types of sedation, including pediatric dental anesthesia. Instead, children remain awake during the procedure while breathing normally and feeling a great sense of relaxation. Many children can respond to simple instructions and answer basic questions.
At the end of the appointment, oxygen is inhaled for 5-10 minutes to completely flush the sedation from their system, leaving no lingering effects.
Still Have Questions About Pediatric Sedation Dentistry?
At Grove Dental, we are committed to helping your child feel safe and comfortable in our care.  For our young patients who have a difficult time visiting the dentist, Grove Dental is happy to offer sedation dentistry and answer your questions to allow for more comfortable appointments.
Want to speak with a pediatric dentist that does sedation? If you believe your child may benefit from sedation pediatric dentistry, contact one of our four office locations in Bolingbrook, Downers Grove, Lombard or Wheaton. Schedule an appointment today!