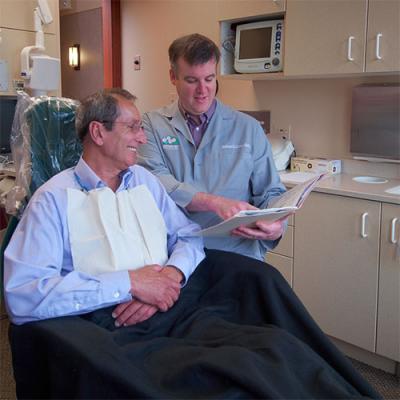 You'll Love Your Brand New Smile
At Grove Dental, you can get the smile you've always wanted — one that looks natural, feels comfortable and changes your entire appearance. Whether you have broken or missing teeth, we can provide state-of-the-art implants that are designed to mimic the look and feel of natural teeth, with no need for adhesives. You can finally have the picture-perfect smile you've always dreamed of with dental implants from Downers Grove and our other three Chicago area offices.
Benefits of Replacing Missing Teeth with Dental Implants
At Grove, turning your smile into a thing of beauty is easier than ever! We offer the kind of full dental implants that mean you're smiling, talking and eating with ease, filled with confidence you never dreamed you'd be able to enjoy. Designed to look just like natural teeth, Dental implants can replace one tooth, a few missing teeth or an entire mouthful.
Look and feel like actual teeth
No messy adhesives
You don't have to take them out at night
Improve bone growth
Protect teeth from movement
Dental Implant Process
The process to receive a tooth implant is much simpler than you might think. It is a collaboration of two doctors performing the treatment. The general dentist will determine the need for the implant and the restoration that will be placed on the dental implant. The oral surgeon or periodontist will perform the surgery. Your appointments will look similar to this:
General dentist develops treatment plan including full dental implants or denture implants
Oral surgeon or periodontist takes x-rays to determine good dental implant candidates
Oral surgeon or periodontist places the dental implant
After healing, implant is revealed to prepare for restoration
General dentist places the final restoration (i.e. crown or denture)
Follow up appointments are welcome as needed
To learn more about dental implants, contact us today!