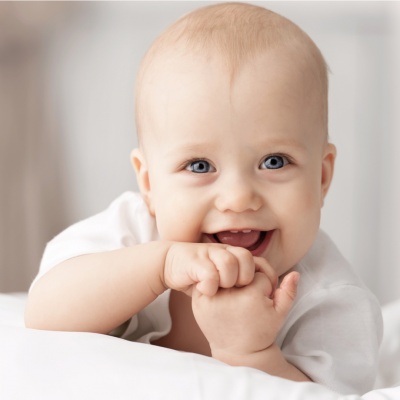 Early Dental Care for Infants at Grove Dental
The American Academy of Pediatrics and American Academy of Pediatric Dentistry, recommend that a child see a dentist after the first tooth appears or by age one.   Early detection of dental problems allows for prevention of disease of the teeth and gums. During the infant dental exam, the pediatric dentist will examine your child's teeth, jaw, and gums for proper development.   Oral hygiene, nutritional counseling, teething, pacifier/finger habits and bottle/sippy cup use, will be addressed at the first visit. We find that regular visits to the dentist starting at an early age allow small children to become comfortable and familiar with the pediatric dental team.   When given positive dental experiences, most kids grow to love coming to the dentist and look forward to their appointments!
Child's first dental experience:
From the moment you enter our office, we introduce "fun"- from our child-friendly decor, toys in the reception area, to tablets and ceiling-mounted televisions for kids to watch during their visit.   Each child's visit is tailored to their needs, including dental examination, evaluation of dental development, cleaning, oral hygiene instructions, fluoride treatment, and if needed, digital x-rays.   When assessing your child, it is not only about the teeth and jaws, but the whole body. Our pediatric dentists take into account all aspects of your child's well-being, from medical health, growth and developmental milestones and behavior. Children are dynamic individuals that are in a state of constant change as their bodies grow into adults. Pediatric dentists have the privilege of watching their patients grow up while providing guidance towards their oral and overall health.